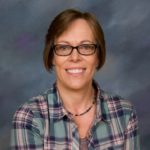 Elementary Resource Room teacher
I am married to Corey and we live on a farm near Hospers. We have one grown daughter, Danielle. In my spare time I like to read, spend time with family, do DIY projects, and garden. When the weather is nice, I spend as much time as possible outdoors.
I have a bachelor's degree in elementary and special education, with an endorsement in early childhood. My master's degree is in K-12 School Counseling. I received both degrees from the University of South Dakota. I have 15 years of teaching experience as a Resource Room teacher. I am excited that the fall of 2020 will be my first year being part of the MOC-FV team!